Advertiser first needs to create a self-serve Ads Account on https://ads.panelplace.com
Once the Ads Account is created, advertiser is able to start creating ads for their products and services in their Ads Account.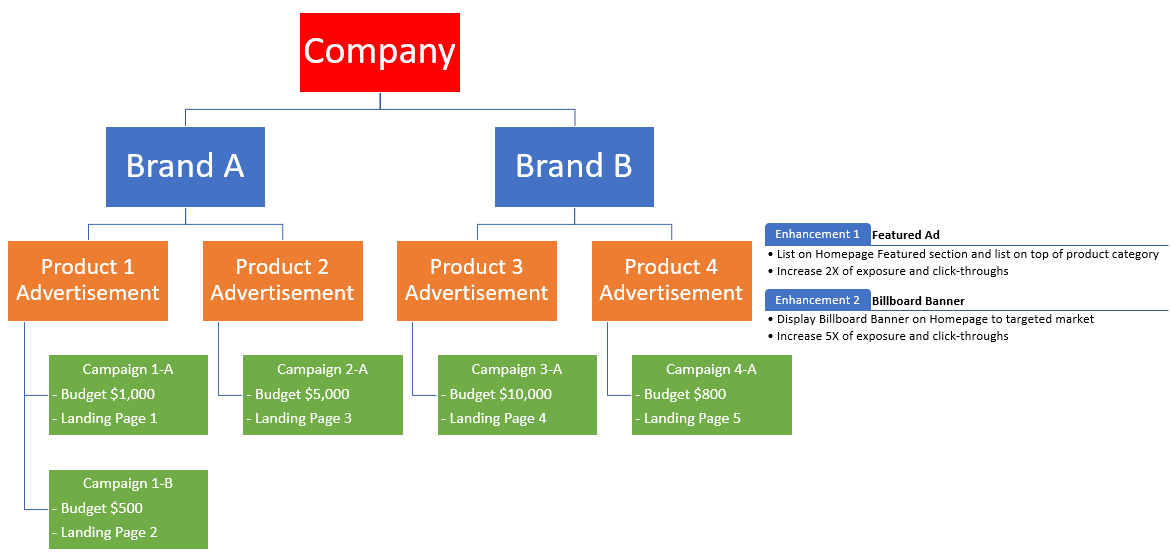 Click here to view bigger image
The steps to list a product ad on the marketplace are:
1. Create a Brand name
A Brand name is where the products/services belong to. A company can own multiple brands.
The Brand name does not display on the ad itself but it is used to group the ads in the Ads Account. For example, Nike, Microsoft, Apple etc. are the brand of various products.
2. Create an Ad
An ad name represents the product name to be displayed to the user or customer. Multiple ads can be created under a Brand for multiple purposes such as:
Different localized product names in different country
Different models
Different variants
Different promotions
For example, Microsoft Office 365, Microsoft Office Home Edition etc. can be the different Ad name grouped under the same Brand.
3. Create a Campaign
A campaign is used for setting the budget, bid price and displaying the ad on the marketplace.
Monthly Budget
Budget is set monthly and once it is committed for the month, it cannot be reduced within the same month but can be increased anytime during the month. The last updated budget will be automatically set as the budget for next month and the campaign will be auto-renewed on the 1st day of the following month. If the budget for next month need to be changed, advertiser can pre-scheduled next month budget in advance or stop the campaign for the coming month.


Bid price
Bid price is the price the ad is bidding for exposure on the marketplace. Higher the bid price, higher the exposure and click-though volume it will potentially gain, which lead to more conversions for the advertiser. A bid price that has been committed for the month cannot be reduced but can be increased anytime during the month.


Destination URL
Destination URL is where interested candidates will visit after they click on the CTA button of your product ad.
An ad can have multiple campaigns running at the same time with different budget and bid price. For example, a campaign can set a lower budget and lower bid price to test a new landing page while another campaign running concurrently with a higher budget and bid price to leverage on a high conversion rate landing page to push more conversions.
A new campaign will be under Pending status while awaiting to be reviewed by PanelPlace. The campaign will also be paused and put under Pending status if there is any changes to the Ad's content. A campaign landing page URL is not changeable once it is created so advertiser will need to create a new campaign if the landing page need to be changed.